Folk Arts

folk musik
musical instruments
wood-carving
weaving
national costumes
metal-work
gunsmithing
pottery



site's structure
home page
e-mail


IVELIN POPOV
Clocks - original woodcarving
PAVEL KOSTADINOV
Original wood-carving with
traditional Bulgarian patterns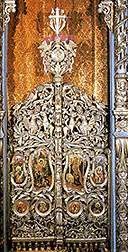 The woodcarvers were skilled professionals in the spirit of the National Revival (18th and 19th century). Some of the oldest woodcarvings date back to the Second Bulgarian Empire (1185-1396): the gates of Hrelyo's Tower (Rila Monastery), the Sv. Petka Church in Veliko Turnovo, the altar of the church in the village of Bozhentsi. Intricate interlaced patterns prevailed in those days.
Several woodcarving schools emerged: in Mt Athos, Debur, Tryavna, Samokov. Interlaced patterns were eventually replaced by floral motifs, birds, human figures, mythical creatures, griffins and dragons.
Magnificent masterpieces from those schools are to be seen in the churches of Sv. NikoIa [St Nicholas] in Sofia, Sv. Bogoroditsa [Mother of God] in Pazardjik, Sv. Marina [St Marina] in Plovdiv, Sv. Arhangel [Archangel] and Sv. Georgi [St George] in Tryavna, as well as the churches in Bansko, the Rila and Bachkovo monasteries.
Unlike their predecessors from the National Revival who chiselled iconostases and thrones, altar gates and private ceilings, contemporary woodcarvers are commissioned mostly for thematic and decorative panels, ceilings, chests, chairs and mirror frames. Still, they draw abundantly on the tradition of their forefathers.